PDF of entire debate with Shai Linne
Several people have asked for a compiled version of the whole debate about Christian rap with Shai Linne. Here it is: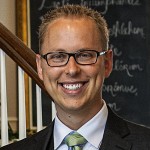 Scott Aniol is the founder and Executive Director of Religious Affections Ministries. He is Chair of the Worship Ministry Department at Southwestern Baptist Theological Seminary, where he teaches courses in ministry, worship, hymnology, aesthetics, culture, and philosophy. He has written several books, dozens of articles, and speaks around the country in churches and conferences. He is an elder in his church in Fort Worth, TX where he resides with his wife and three children.