Should We Build Churches Around Family Integrated Worship?
This short post by Scott Brown derails common caricatures of (at least his form) of the family integrated movement.
By the way, I'm headed to the NCFIC Worship Conference at the end of October. Looks to be very good.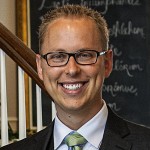 Scott Aniol is the founder and Executive Director of Religious Affections Ministries. He is Chair of the Worship Ministry Department at Southwestern Baptist Theological Seminary, where he teaches courses in ministry, worship, hymnology, aesthetics, culture, and philosophy. He has written several books, dozens of articles, and speaks around the country in churches and conferences. He is an elder in his church in Fort Worth, TX where he resides with his wife and three children.